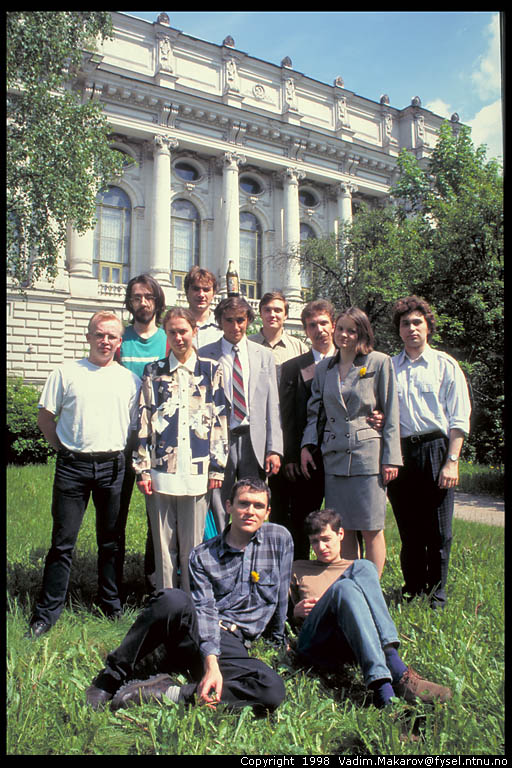 Available as a 1000x1500 JPEG

Graduates of Radiophysics Department. SPbSTU, St. Petersburg, June 1998
Fujichrome Sensia II 100 film, Canon EOS 500N, EF 28-80 1:3.5-5.6 IV USM lens at mm, UV(0) filter, f/16, autoexposure with +0.5 compensation (trusting autoexposure was a mistake), tripod, self-timer. Scanned to Kodak Master Photo CD.
One and half year later, I am writing: this is a good example how you should not take a group picture.
The photographer should always be behind the camera and not in the frame.
Scout the location and prepare everything beforehand instead of dragging the whole crowd with you on a hot day and taking several pictures before finally finding a good place. Everybody on this photo looks really tired and strained. In fact, when I asked them to pose once more, they just walked away.
Harsh sunlight without fill-in flash or reflector is about the worst lighting for normal portraits.
If you have to use a wide-angle lens, at least position people in a row to avoid distortion when the parts of body closer to the camera appear enormously big (look at the feet of two sitting guys).
You may let people fool with beer bottles for a while, but don't forget to take some pictures where they don't do it.
For a picture of ten people, you'd better spend more than two frames to have something to choose from.
If you want a picture caption, ask everybody to write his/her name down for you immediately after the photo is taken.
On the other hand, having a frustration like this makes you a better photographer.

This picture is listed in Stock Database (ref. nr. n16-4)

Copyright 1998 Vadim Makarov: information on how you can use this image
---
Vadim Makarov