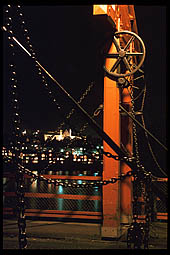 Equipment
owned by Vadim Makarov, listed for his Photo Pages
---
Not that gear is important, but...
Being carried on my back every day:
45 liters FjellSport tourist-style backpack with two main compartments. Inside it:

Stowed vertically through both compartments:

Gitzo 1228 carbon fiber tripod with Arca-Swiss B1 ballhead attached.
The ballhead rests on a custom-cut styrofoam pad affixed in the lower compartment.
When not stowed inside, it is carried on my right shoulder (backpack not shown on the drawing; please notice that I look more attractive in real life).

Stowed into the upper compartment:

LowePro S&F Reporter 100 AW camera bag, modified, with S&F pouch 50 AW and S&F Film Organizer AW attached.
When access to the camera is needed, the camera bag is taken out and carried on my right front side, strap over the left shoulder (picture). It doesn't interfere with the backpack and tripod; all three can be carried and used independently.

Inside the camera bag:

Canon EOS-3 camera body, with RRS quick release plate and shortened RS-80N3 remote release permanently attached (reinforced with a shorter nylon cord to prevent cable failure) that one broke :). One of the lenses is always attached to the body.
Canon lenses:

EF 24mm 1:2.8. This is an older Canon lens; its hood can be attached in three positions. Two of these positions are wrong and leave dark corners on your most important shots if you are not careful to notice it. I ended up making an epoxy bump on the lens and a notch on the hood so that it could only be mated to the lens in the proper position.
EF 28mm 1:1.8 USM left at home to save weight: I don't really expect auroras where I am now
EF 50mm 1:1.4 USM left at home to save weight
EF 28-105mm 1:3.5-4.5 USM
EF 75-300mm 1:4-5.6 II

Canon matched hoods for all lenses
Protective filters on all lenses (Hoya UV(0) or 81A). It's easier and safer to clean a flat filter surface from dust and dirt that inevitably accumulates over time than do the same to a curved front lens element.
Filters (58mm, fit all my lenses), Hoya unless noted otherwise, all stored in original Hoya shipping cases:

Hakuba polarizer (want to replace it with a better one; had to glue its retaining ring after it fell apart into a puddle just when I was photographing a rainbow almost this bright)
Kaiser R3 (81C)
82C
80B
80A
FL-DAY
FL-W
Empty filter case

Canon 550EX flash
Canon off-camera shoe cord 2 (60cm)
Canon TC-80N3 timer remote controller (a programmable remote release)
A lot of film (min. six unexposed rolls)
Spare batteries for everything, including lithium AAs for the flash (fast guaranteed recycle time of 3.5-4s with 220EX, 8s with 550EX, starting to increase only when the batteries are nearly dead)
Kodak lens paper
A pencil and pile of pre-numbered film description forms
Several bunches of coupons for names of people
Pens, permanent markers
A card with the list of CF functions for EOS-3 (was included with the body)
Spare nut for tightening the Arca clamp. The original knob unscrewed itself and got lost on a trip to Lofoten islands. I immediately replaced it with $2 nickel-plated butterfly nut from the hardware store in Bodø. My A-S looks much cooler now. Should I say that two days later on the same trip, I forgot the whole tripod in a tourist bus? It took several calls to the bus company and two weeks of waiting to get it back by mail. I suspect that the tripod was riding in the bus just where I left it during the first of the two weeks. Then it took another week for the Norwegian mail to deliver it within the country. Norway is safe, but slow.

In the cap outer pocket:

Schneider 4x loupe in hard plastic box
Gepe PRO VR punch, modified (see below)
These items are light enough to always have them with me.

The backpack with all these things weighs about 11kg. It is more comfortable to carry than a shoulder bag of a smaller weight, and has a lot of space for non-photographic items. Looks ugly, yes. That's the price :)

I'd be glad to carry more if my back weren't telling me otherwise. That, in fact, precludes me from getting the heavy f/2.8 L zooms.
Collecting dust in a closet:

Cheap Hama tripod (the flimsiest I know of: 900 gram, six-section telescopic legs, 130cm when extended. Still, it was much better than no tripod)
Cheap Hama camera bag: soaked rain like a sponge
Canon EOS 500N (Rebel G) camera body
Canon EF 28-80 1:3.5-5.6 IV USM lens (had significant play in the front element/ focusing ring, just like all similar lenses, which ruined me several pictures by slipping out of focus while I was recomposing after setting the focus)
Canon 220EX flash
Kodak Professional Photoguide
Uncoated UV filter. It once caused me a peculiar ghost (see image at left) due to reflections off the filter.

Also gadgets that I bought, carried in the bag for a year, but never got to use:

Canon 500D close-up lens
Canon 250D close-up lens
Canon EF25 extension tube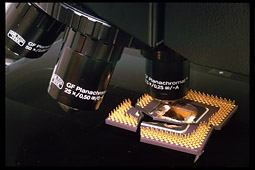 On my work table:
Two big 5000K light tables (one at home and one at work),
Schneider 4x loupe (for me),
Horizon 4x loupe (for my guests who brush the loupe glass with their thickly painted eyelashes),
Schneider 10x loupe,
office scissors (I cut film with them),
Gepe PRO VR punch (modified),
A big box of Gepe PRO VR glass slide mounts,
Gepe slide mounting press,
Gepe straight slide trays, in 2x50 tray boxes.

I should actually add to the list a compessed air nozzle in our optics lab, but it is connected to the building air network, which is too big to pretend that I own it. Small compressors are commercially available, however. I use it to dust everything off, especially when mounting slides: summary about my method of glass slide mounting.

I have free access to Nikon LS-30 and Nikon LS-2000 film scanners and use my decent office PC with Photoshop for image processing.
Hopefully now you are excited enough to view my pictures taken with all this equipment.

If you are incredibly lucky, you can also watch me operating a Leica Pradovit P 300 IR slide projector (90mm Colorplan lens) put on custom-made aluminium plate that mounts onto A-S clamp on my tripod, drawing available... Okay, okay, I shut up.

Here are, by the way, some useful pages from the manual on the Leica Pradovit series projector:
---
Vadim Makarov
You may Add a comment | Add a link