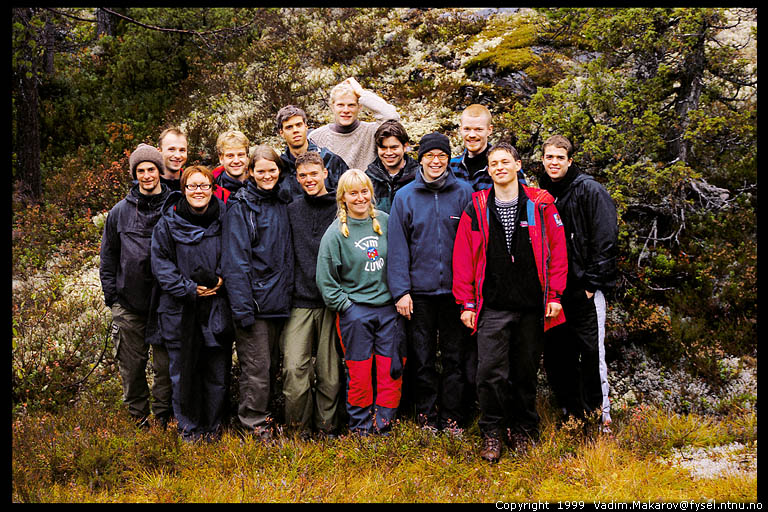 Available as a 1000x1500 JPEG or a 3000x4500 low-compression JPEG (2.9MB)

NTNU camera club. Nature photo workshop with Lars Dybvik, 1999
Left to right: Kjell H. Andersen, Ole Kristian Aaset, Karin Skog (club president), Sindre Kjetil Frigstad, Birgitte Rossavik Gundersen, Bjoern Hallberg, Oeystein Birkenes, Erik Kristian Lassa (guy above), Kristina Norne-Widell, Jakob Tysdal, Siri Refsland Toennessen, Knut Lyngstad, Einar Stamnes, Nils Erik Pande-Rolfsen - all are members of the camera club. Lars Dybvik is not in this photo.
This picture illustrates Coupons for Names of People page and is listed in Picture Collection (ref. nr. a11-5) on Photo Pages
Fujichrome Sensia II 100 film, Canon EOS 500N, EF 75-300 1:4-5.6 II lens at short end, R3 filter, f/5.6 1/4, >A-DEP foreground grass - pine tree at right, partial metering: palm of the hand 0 (palm held vertical) to +2.5 (palm faced up - max reflection), green -2 to -1.5, dark clothes at the left side -2; tripod. Taken in overcast evening of October 24, 1999. Scanned on MagnaScan 656IM drum scanner.
Copyright 1999 Vadim Makarov: information on how you can use this image

---
Vadim Makarov