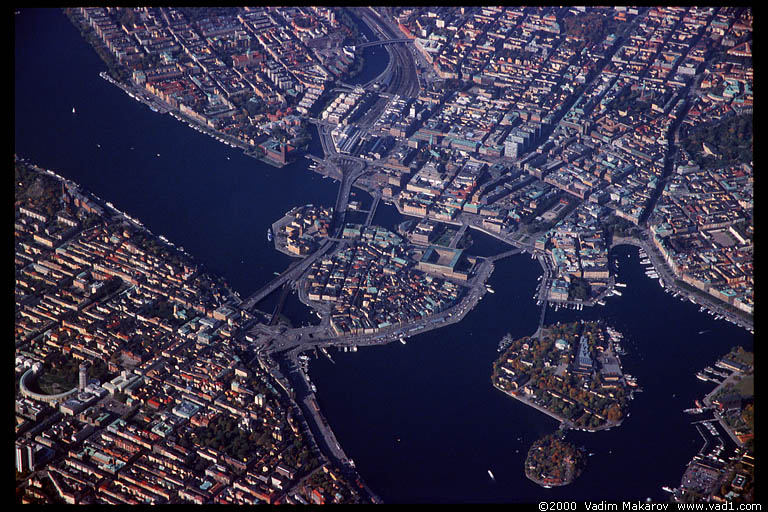 Available as a 1000x1500 JPEG or a 2600x3900 JPEG (3.4MB)

Stockholm (central part of the city)
Let's look around the picture. The island in the middle is where the city started (Gamla Stan); the big square building is the Royal Palace. Just above it on a small island stands the Parliament. To the right of it (cross the bridge over Strömmen to the mainland) is the Opera House. The place with a lot of railway tracks is the central station, and to the left of it by the lake stands the City Hall, with its high red tower.
The other island in the lower right quarter of the image hosts the Museum of Modern Art (Moderna Museet). At the right border of the image, you can see Vasa Museum.
Image of the whole Stockholm is also available.
This picture is included in Picture Collection (ref. nr. a84-28) on Photo Pages
Taken on September 30, 2000 from a commercial airliner flying from Berlin to Stockholm (Arlanda airport).
Fujichrome Sensia II 100 film, Canon EOS-3, EF 28-105 1:3.5-4.5 USM lens at long end, f/9 1/250, lens set at focusing scale infinity, sunny 16+0.3, handheld. Scanned on Nikon LS-2000 scanner.
How you can use this image. ©2000 Vadim Makarov
---
Vadim Makarov