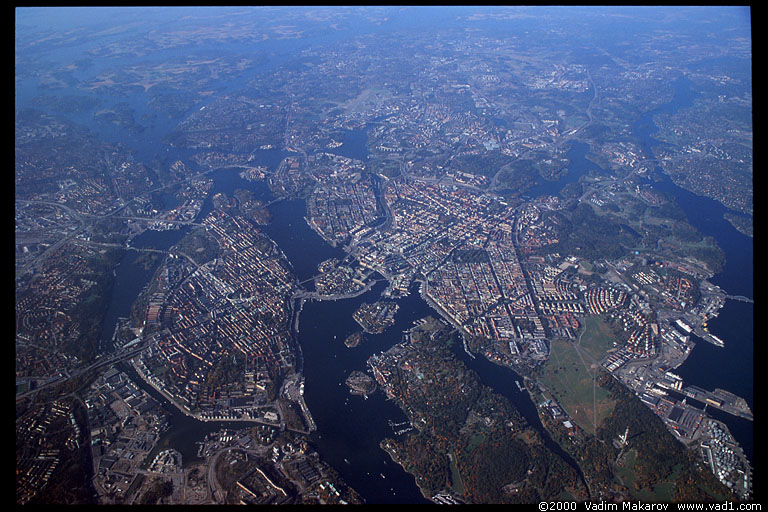 Available as a 1000x1500 JPEG or a 2600x3900 JPEG (2.2MB)

Stockholm
You see more than half of the modern Stockholm city in this aerial image. The historical old city (Gamla Stan) is on the island in the middle. The island separates a salty fjord below from the freshwater lake above it. In the bottom right corner, you can see the TV tower, and several white-colored ferries in the port. The biggest ferry is one of the two Silja Line ships cruising daily between Stockholm and Helsinki.
The north-western outskirts are also in the picture. Can you pick Drottningholm (the Royal Residence)? Can you find Kista suburb?
This picture is included in Picture Collection (ref. nr. a84-30) on Photo Pages
Taken on September 30, 2000 from a commercial airliner flying from Berlin to Stockholm (Arlanda airport).
Fujichrome Sensia II 100 film, Canon EOS-3, EF 28-105 1:3.5-4.5 USM lens, f/9 1/250, lens set at focusing scale infinity, sunny 16+0.3, handheld. Scanned on Nikon LS-2000 scanner.
How you can use this image. ©2000 Vadim Makarov
---
Vadim Makarov