---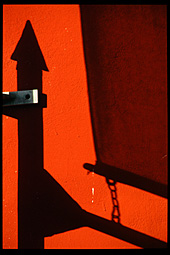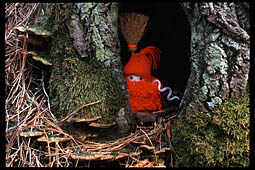 Runners-up, actually. I've never been the first in a contest. I've been on the 6th place, then on 3rd, on 3rd again, and last time was the second (after the club president). As you see, photography is something you can learn by practice. Then I took part in one or two more competitions and won nothing. As you see, one can easily degrade, too :)

This is a competition of a particular type, popular among the local student photo clubs.

The contest takes five hours. Before it starts, every participant is given a roll of slide film (Fujichrome Sensia II 100) in exchange of a few themes written by him on little pieces of paper. All tickets with themes are then put into a box (or into someone's hat) and one theme is drawn in the beginning of each hour. Therefore, you have five hours to ponder the first one, but at best an hour to shoot the last one, managing your time and 36 frames as you want.

The film is developed and given to the participants few days later. Everyone can pick and submit one picture per theme to the jury formed from photographers not connected to the camera club. Before that, hovewer, we view the pictures and vote ourselves, just for fun. Participant's choices never match those of the jury, even remotely!

The contest is a good training. The pressure forces me to explore new techniques and take pictures that I wouldn't otherwise attempt, being too lazy or shy. After five hours, I'm tired like hell and can't do anything for the rest of the day - that's why it's called Fotomaraton.
Unlike the larger Danish FotoMarathon, where participants are restricted to spend exactly one frame of negative film per theme (casual shooter's idea of how to expose it), ours resemble pro's job more closely, allowing to shoot many frames and then pick only the best ones. Indeed, their site says
"Even though a very small number of professional photographers has participated during the earlier Copenhagen Photo Marathonīs, none of them has ever ended as one of the winners of the top pizes... actually, quite a number of the "professionals" dropped out of the competion before the end"
- naturally, shooting one frame per assignment is not how most pros work!

Both student camera clubs in Trondheim - Studentenes Kameraklubb (NTNU) and Fotogruppa (HiST) - have these competitions twice a year, open for everybody.

| | |
| --- | --- |
| In 2006 I did a mischief and submitted a couple pictures to a contest organized among the employees of our department (the subject was "Christmas"). There wasn't much competition, so one of my pictures won. | |
---
Vadim Makarov
You may Add a comment | Add a link