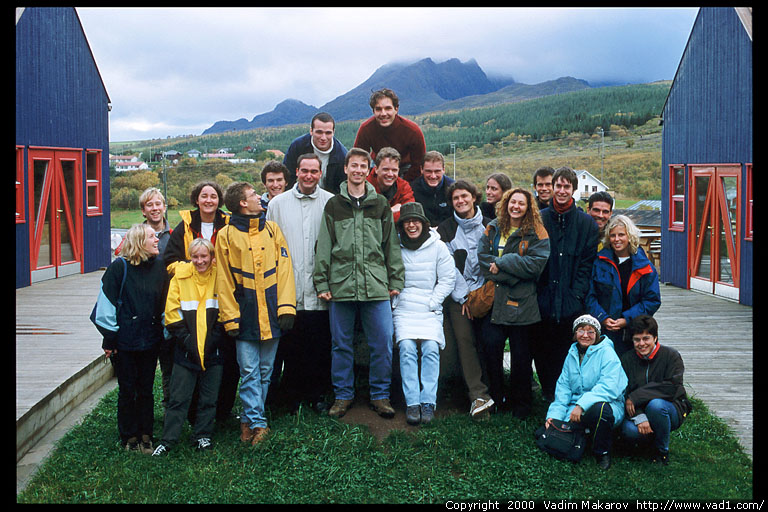 Available as a 1000x1500 JPEG or a 2600x3900 low-compression JPEG (1.5MB)

ESN trip to Lofoten in September 2000
Picture taken at the Viking Museum of Borg in Lofoten, Norway.
Standing, left to right: Janne Bakke (Norway), Maxime Wielemans (Belgium), Conny Zurbuchen (Germany; 1st row), Simone Storer (Germany; 2nd row), Vandenbrovcke Arne (Belgium), Nicolas Roybon (France), Klaus Linkenheil (Germany), Vegard Eid Mediaas (Norway; standing above), Roland Wirthenstaetter (Austria), Giorgio Saia (Italy; standing above) Daniel Blaschke (Germany), Noelia Martinez Lillo (Spain), Danny Geleyn (Belgium), Peter Newmayr (Austria), Lena Schaekers (Belgium), Lillianne Cirne (Brazil), Peters Jorn (Belgium), Koen Verheyden (Belgium), Davide Brutti (Italy), Tuva Andersen (Norway).
Sitting, left to right: Galina Kouteeva (Russia), Carola Uffinger (Germany).
Most of the guys and gals here were exchange students at NTNU at that time.
This picture from Around Norway with ESN gallery also illustrates Sky as a part of photograph guide and is included in Picture Collection (ref. nr. a75-21) on Photo Pages
Taken on September 24, 2000.
Fujichrome Sensia II 100 film, Canon EOS-3, EF 50mm 1:1.4 USM lens, f/8 1/50, >DOF, spot metering: too much contrast: sky +2 or brighter (darkened in Photoshop), dark clothes and grass around -1.3; tripod. Scanned on Nikon LS30 scanner.
Copyright 2000 Vadim Makarov: information on how you can use this image
---
Vadim Makarov