Available as a 1000x1500 JPEG

Monument to Peter The Great (The Bronze Horseman). St. Petersburg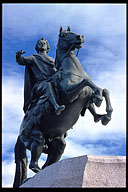 Built in 1768-1782; sculptor E. Falconet.
I think, the version of this image where I selected statue, stone and sky and adjusted them separately looks better (shown to the right).
This picture illustrates Sky as a part of photograph guide and is included in Picture Collection (ref. nr. n20-1) on Photo Pages
Fujichrome Sensia II 100 film, Canon EOS-500N, EF 75-300 1:4-5.6 II lens at 115mm, polarizer (darkened sky and re-distributed reflections more evenly), f/6.7 1/30, partial metering: dark places on the monument -2; tripod. Taken in July 1998. Scanned on Nikon LS30 scanner.
Copyright 1998 Vadim Makarov: information on how you can use this image

---
Vadim Makarov